As a 6-year-old growing up in Eden Prairie, Minnesota, I remember watching my brother and at his DI team perform at our local tournament. Even in the cold winter months, they seemed to have so much fun solving their chosen DI challenge—making colorful creations, costumes and gadgets. I remember thinking that someday I also wanted to do DI and be an official member of what I considered their 'cool kid club.' I can say now, after 12 years as a DI participant and even longer as a volunteer, I have learned a lot more from DI than just how to be cool! As a Regional Challenge Master and current Chair of the Alumni Council, I have worn many hats for DI, both big and small. However, one of the most important hats I wear for DI is my giving hat. Because DI is always looking for ways to support students and families to keep learning and growing, I am always willing to put my donation hat on and donate to support creativity as well.
This holiday season, please join me in supporting Destination Imagination by putting on your 'giving hat' and making a donation to DI as part of the Hats On For Creativity fundraising challenge! Help me in raising $10,000 for DI by December 31, 2020 at 11:59 p.m. Pacific Time. Thanks to you, we've already raised $2,030 toward their goal!
You can make a donation to Destination Imagination as part of the Hats On For Creativity fundraising challenge with these 3 simple steps:
Make a tax-deductible donation of any amount to Destination Imagination, Inc. online, or by mail, email or phone.*
After you make your donation, post a photo of yourself wearing your favorite hat on social media to encourage others to make their own donations. Use the hashtag #HatsOnForCreativity.
Challenge 2 people to make a donation in the #HatsOnForCreativity fundraising challenge by tagging them in your photo.
The skills I learned in DI and the relationships I've made over the years have played a big part in helping me become who I am today. I donate to DI because I want to ensure that a new generation of students can benefit from the same educational experiences that taught me how to solve problems, collaborate with others, and expand my creativity. I love putting my (tiny!) hat on for creativity and I hope you will consider putting your hat on too!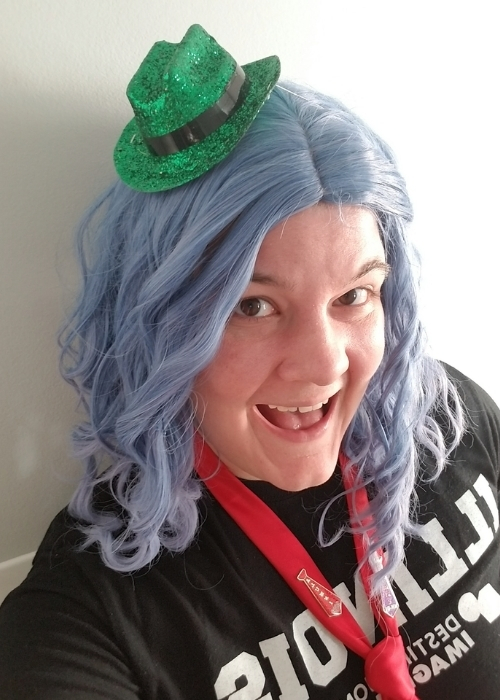 I would like to formally challenge Ben White, a Challenge Writer from Pennsylvania, and Michelle Talkington, a Team Manager from Maryland, to participate in the Hats On For Creativity fundraising challenge.
Sincerely,
Kate Nylander
Destination Imagination
Chair, Alumni Council
*If you would like to make a tax-deductible donation to Destination Imagination, Inc. by check or cash, please send to the following address:
Destination Imagination, Inc.
c/o Advancement Department
1111 S. Union Ave.
Cherry Hill, NJ 08002
If you would like to make your donation over the phone, please call 1-856-324-4778 or email donate@DIHQ.org to set up an appointment.
The post Tiny Hat, Generous Heart ❤️🎩 appeared first on Destination Imagination.