Many of you will not be surprised to learn that in high school, I was a cheerleader. I'm from the generation that wore saddle shoes, and short blue and white skirts. I was pretty cute, if I must say so myself. Too bad it didn't last long. Due to an unfortunate accident in which I dislocated both kneecaps during a stunt, my cheerleading career ended prematurely.
Not to be deterred, the next year I tried out for the majorette squad and I made it! I was probably tapped because there was a uniform that fit me. It certainly was not because of my twirling ability, which was non-existent. My dad used to say that he could always pick me out on the field—I was the one chasing a baton bouncing across the football turf. Sometimes, if the doggone baton got too far away from me, I would just pretend to have a baton in my hand and go through the motions. Virtual twirling!
But the one thing that I mastered was the pivot. During our halftime show, the squad looked to me for leadership to hit the corners precisely, stop on a dime and instantly initiate Plan B if the marching band became disoriented or a little off program…which was most of the time.
Isn't it funny how as we get older, patterns in our life seem to repeat themselves?
Upon assuming leadership of Destination Imagination in 2018, I inherited a solid program for students around the world, with dedicated volunteers and a tradition of hosting a spectacular international tournament. DI had the potential for growth and the promise of heightening its profile and reputation in the global educational community.
But less than two years later, an unimaginable worldwide pandemic scuttled our plans. Sort of like dislocating our kneecaps. Very painful and temporarily disabling, but not fatal.
DI embarked upon a new frontier—operating our business operations and programs in a virtual space. We are no longer cheerleaders, but majorettes! And we have had to learn how to twirl the baton. In 2020, under tremendous pressure, DI put together a virtual Global Finals event in order to provide our teams with an opportunity to participate in a year-end activity. We are proud of our work, and grateful for the continued loyalty of our participants, both students and volunteers. But both you and I know, it wasn't the same.
In 2021, the pandemic is still with us, but DIHQ has perfected the art of the pivot. This has required the implementation of Plan B: Global Finals 2021 that will be held virtually. But Globals 2021 will be an entirely different event than last year. The most successful teams from around the world will be participating and we will offer interpretation in several languages. Team rankings are back, and teams will be appraised on the Challenges they worked so hard on throughout the year. While some signature Globals events will return next year, pin trading will be part of this year's festivities! We are introducing new and exciting opportunities, including FAST FLEX, an extension challenge experience based on our 2020-21 Challenges. But don't fret, Instant Challenge will make a return appearance in 2022, bigger and better than ever.
Without the extraordinary effort of the DIHQ staff, Global Finals 2021 could not have been conceptualized nor implemented. We have engaged in endless meetings, brainstorming, cooperation, collaboration, creative and critical thinking. We have pivoted, pivoted and pivoted again and again. Our goal is to provide a tournament that is packed with fun, excitement and value. I think that you will find that we have accomplished that goal.
Don't get me wrong. I'm still driving the struggle bus, and DI has many challenges to overcome in the months ahead. We appreciate any and all financial support you can provide as we work our way to 2022. If you are able to make a contribution, please click here.
Despite the mountains we still must climb, we are thrilled with the progress of our preparations to celebrate the hard work of our teams this season. Since we can't be in Kansas City with you in July, we will make our gathering the best it can possibly be in the virtual world. I hope to see you there.
I leave you with a photo of the 1975 Teaneck Majorettes. Try to pick me out of the crowd!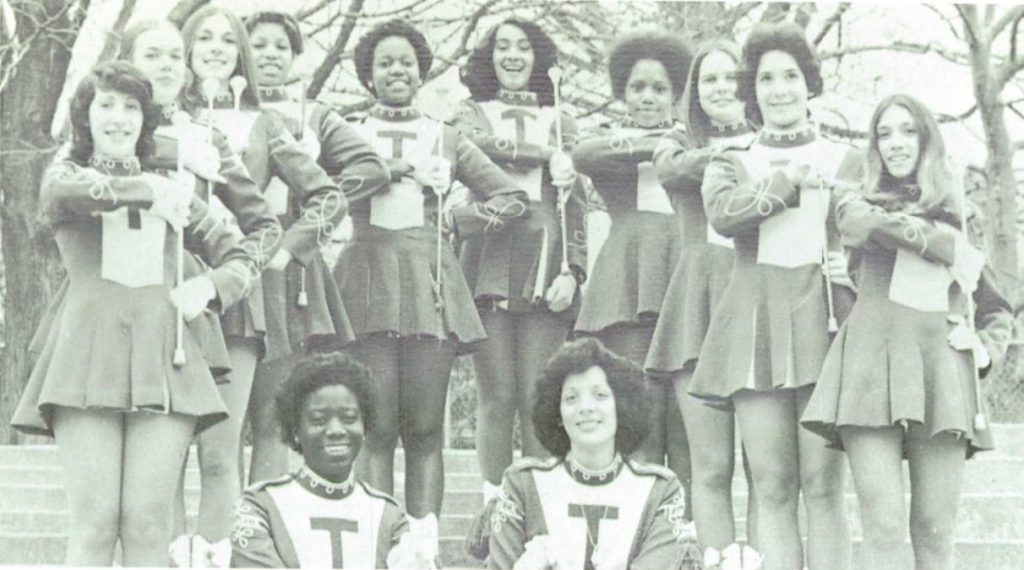 Stay Healthy, Stay Creative.
Michele
The post The Pivot to Virtual Global Finals appeared first on Destination Imagination.